Marcia Murray & Associates Realty, LLC
About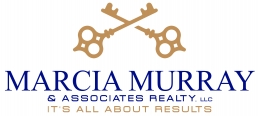 "Delivering exceptional Real Estate Services for our clients is the very core of our business".
Whether you are in the market to buy a home or sell an existing one, we strive to bring our clients Quality Service with over 18 years of Experience and Knowledge. The service we offer our clients and their satisfaction has resulted in our continued business growth. Our Homes are special places where we create our family memories.
Realizing this and helping to bring you there makes our job truly rewarding and continues our commitment to preserving the American Dream".
Contacts
Primary
Marcia Murray
Principal Broker